Six-month intensive program with 1:1 coaching designed to empower leaders to play big, whether they aspire to thrive in their current role or accelerate their career in record time.
This unique coaching framework fosters growth mindset, physical resilience and energy to unlock inner transformation that drives results on the outside, fast!
The program is available in two distinctive variations, each catering to unique preferences and needs: Essentials and Signature offering.
Begin With Self-Awareness
Heightened self-awareness is the hallmark of every high-functioning executive. Establish a baseline and gain deep insight into your behavioral patterns through leading assessments.
Energy Leadership™ Index (ELI) Assessment

– Proprietary, research-backed assessment to uncover how you show up to the world – under normal circumstances and when you're under stress. Gain awareness of how your energy levels may be affecting your behavior and relationships.
Boardroom Zen™ Health & Lifestyle Assessment – Proprietary, comprehensive assessment to assess your state of wellbeing and lifestyle patterns that may be holding you back from high performance states.
Craft Your 6-Month Roadmap
Set your eyes on the most audacious goals to take your career to the next level. This is where we curate a personalized plan to amplify your strengths aka "Zone of Genius" and address opportunities and blind spots that subconsciously limit your upward climb.
Execute With Finesse
Results-driven 1:1 Power Coaching based on the Boardroom Zen Signature Approach. This is where we strategize, review progress towards goals, address obstacles hindering progress and drive accountability to help you realize your goals.
Designed for "You" Strategies
Simple, effective and actionable strategies hand picked for you to operate at peak levels in high pressure environments. Integrate these strategies into day to day or double down when you find yourself in stressful situations.
Advisory Support on Demand
Get on-demand support outside of regular coaching sessions to discuss time-sensitive matters or seek advisory support.
Results That Matter
Retake the Energy Leadership™ Index (ELI) Assessment to evaluate progress since the start of the program.
Gain tremendous confidence, undeniable executive presence and ability to operate at peak levels of performance with ease. Surpass your career goals without compromising on your quality of life and sense of purpose.
Real Stories, Real Results
See what our individual clients have to say!
Abdy Navarro
Director of Customer Service, Spectrum
Megha's impact as an executive coach on my professional growth has been truly remarkable!
What sets her apart is her holistic approach to leadership development, seamlessly integrating self-care and self-awareness into the coaching journey, which goes beyond the conventional scope. Megha's guidance is consistently on point, and every session with her uncovers rich insights on how to navigate my career with greater precision. I highly recommend Megha to anyone looking to take their career to the next level.
Vijay Sethi
AVP, W&S Financial Group
Working with Megha to enhance my personal brand had a profound impact on my comfort and confidence when leading high-profile meetings with C-level executives.
I highly recommend Megha's framework, particularly if you are a senior leader aspiring to transition into an executive leadership role.
Christine Cummins
Director of Business Development, CSG
In my own search for professional growth and leadership development, I came across a LinkedIn post that resonated with me. Little did I know that months later I would find a coach and source of inspiration. Megha's spirit is one that embodies leadership through perspective and guidance through self-reflection. I am grateful that our paths crossed, and thankful that I've been able to glean just a little of her ability to focus energy and positivity towards progress.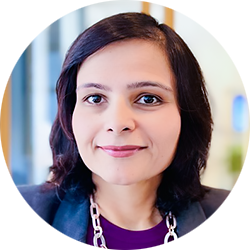 Aditi Tuteja
Head of Marketing, Sanofi
The fact that I can still rattle off key takeaways from my sessions with Megha months later tell you everything you need to know. Megha brings a unique, grounding approach that reassured me to trust my instincts. Her way of deep listening, reflecting, and getting me to challenge my own assumptions enabled me understand what's truly important to me, quiet some of the "should" and figure out how I could elevate myself professionally as a centered executive.
Aranika Mahajan
Google Cloud Platforms Leader, Google
I highly recommend Megha to any executive looking for no-fluff, high impact coaching to raise their professional game. Megha has a knack for breaking down the complex into simple, along with a human-centric approach to inspire lasting change in the leaders she works with. She is incredibly motivating and comes armed with practical advice to help you focus your energy in the right places.
Shailu Jhala
Product Strategy Leader, Dell
Megha is a top-notch executive coach. Her undivided attention and individualized approach is an awesome thing to experience! Her advice is steeped in experience and is always on-point and practical. She embodies the essence of a trusted advisor and is incredibly sharp, insightful and non-nonjudgmental. If you wish to live up to your potential, Megha is the person you should speak with!
Don't settle for mediocrity
See how Boardroom Zen will catapult your career to the next level. Book your complimentary Breakthrough Call today to learn what's possible.
Resilience & Wellbeing
You can't pour from an empty cup. Learn how to prioritize self-care, set healthy boundaries, and manage your energy, so you can avoid burnout and cultivate a sustainable lifestyle that promotes high performance.
Thriving under Pressure
Pressure is a privilege. Learn to embrace pressure with tools and strategies to succeed in high-stress environments.
Owning Your Voice at Work
Silence is not golden. Speak up, stand out, and own your voice at work. Embrace practical tools and strategies to confidently communicate your ideas, opinions, and value in any workplace setting.
Mastering the Art of Alliance Building
Collaborate to elevate. Learn how to create meaningful connections and collaborations that drive success.
Building an Enviable Brand
Your brand is your story. Learn how to build a personal brand that communicates your unique value proposition, builds trust and opens up new opportunities for growth and impact.
Megha is a trusted advisor to organizations. She has led high-impact workshops & roundtables for Fortune 500 and Non Profits across United States and Asia Pacific.
Recent Clients:
Spectrum, Comcast, Tata Consultancy Services, Fireminds, ATN International, The WICT Network, Blooming Health, Galoras, Centre for Innovation & Entrepreneurship – JMI, and many others
Megha is a seasoned presenter that blends powerful storytelling with a compelling stage presence to leave lasting impact on any audience. She  has influenced thousands through her powerful keynotes across US, India, China and Hong Kong.
Recent Engagements: Micron Technology, IEEE, Project Management Institute, The Ohio State University, Institution's Innovation Council
High Performance Blueprint: Do More With Ease
The research is clear! High performance is predicated on the level of energy we possess. Chronic stress blocks our ability to effectively manage energy reserves and stay in a state of flow.
This talk exposes simple yet mighty, scientifically proven practices to tap into energy reserves of mind and body. In this session, the participants will be exposed to powerful strategies from Boardroom Zen's "High Performance Blueprint" – something that is unfortunately not taught in the classroom or the boardroom. This signature topic is ideal for leaders that aspire to achieve more with less, while harnessing the power of focus, presence and creativity.
Leadership Reinvented: Rise like a Phoenix
It's clear that the world has gone through an epic shift over the last 3 years. Like never before, today's business leaders are bombarded with challenges of great complexity and scale. A new strain of leadership DNA is in emergence that's calling leaders to steer with conviction in the darkest hours, blaze new trails and find new ways of problem solving, while staying true to who they are.
Arie de Geus once said: "No problem can be solved from the same consciousness that created it." The same is true for today's leaders. They have a choice to make – embrace this new strain or stay the course! In this talk, we will unpack the 4 elements that make up this strain of leadership DNA. The talk highlights how integrating these elements into their leadership style can be a gamechanger and help maximize impact.
From Contacts to Connections: The Pathway to Professional Growth
Tired of attending networking events and collecting a stack of business cards without seeing any real results? Do you feel like you're missing out on opportunities because you don't have a strong or broad enough network? In this talk, you will discover the importance of building authentic relationships, creating a personal brand, and establishing credibility within your network.
You'll learn how to make a lasting impression and stand out from the crowd, as well as how to cultivate connections that can lead to new opportunities and partnerships. Don't miss out on this opportunity to transform your contacts into valuable connections that speak for you when you're not in the room.
Success is a journey we take with our clients
See what our corporate clients have to say!
Conor McGowan Smyth
CEO, Fireminds
I invited Megha and the Boardroom Zen team to assist in a crucial Human Resource and cultural transformation initiative. Overall, I cannot recommend Boardroom Zen highly enough as a catalyst of positive leadership change.
The initiative was completed ahead of schedule, within budget and most impressively, the project ended with 7 recommendations, of which, we have implemented 4 and will have the other 3 implemented by the end of the year, again highlighting Megha's ability to discern true needs, exert influence for change, and drive progress.
Robert Sacks
IEEE Program Specialist
Megha delivered a very powerful and valuable presentation to IEEE TV audience. We learned practical, real-world methods of maximizing our energy to realize our potential. Because time was limited, she was only able to deliver a portion of the wisdom she had gathered, and we are very eager to see the rest.
Laxmi Vallury
VP, PMI Westchester New York
Megha joined us as a Keynote Speaker for the 14th Annual Symposium for Project Management Institute (PMI) Westchester, New York.
Her ability to distill key points, delivery of practical takeaways, "grace under pressure" and real-world corporate experience make Megha credible, as she shares valuable tips that apply to any profession and practice. I highly recommend Megha to anyone looking for a high impact speaker!
Roundtable Participant
WICT Leadership Conference
Greatly enjoyed Megha's roundtable focused on building leadership resilience. This session ended up becoming the highlight of 2022 WICT Leadership Conference. Megha facilitated a rich and thought provoking conversation to invite perspectives from leaders facing the same challenges.
Your business, our passion: Let's achieve greatness together.
Whether you are planning a large-scale corporate event or a customized training program for your leadership team, we have the expertise to create an exceptional experience for your organization. Book a consultation to learn what's possible.